Surly Ogre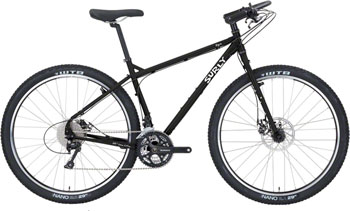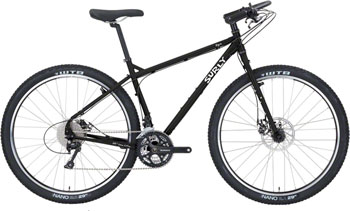 Surly Ogre
The Ogre's 29 inch wheels and comfortable riding position make this an exceptional bike, as at home cruising off road from Pittsburgh back to DC on the Great Allegheny Passage and C&O Towpath, as smoothing out cruising the root-infested Rock Creek Trail while cruising to work.
If you're like us, your bike needs will likely change by the day, week, month or year. Ride the Ogre to the office during the day, rip some local single-track after work, use it to tote crates of freakishly-large tubers next weekend, and tour that stretch of off-the-beaten-path double-track next month. With Ogre, you can do that.
The Ogre comes with Surly's suspension-corrected (80mm) fork with threaded mounts for fenders and a rack. It will run cantilever or disc brakes so you can choose a system that best suits your stopping needs. Both fork and frame allow the use of a fender, disc brake, and rack at the same time. That's surprisingly unusual in many modern frames. The fork also sports triple-boss bottle cage mounts, one set on each side. Each cage can be run in a high or low position, or you can run oversized Anything Cages.